About | Frequently Asked Questions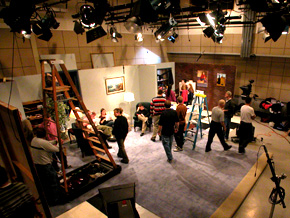 What does a telecom student study?
The study of telecommunications includes radio, television, cable, satellite services, telephony, multimedia, and the Internet. Students learn about the design and production of programs, the managerial and legal aspects of the business, and the impact electronic media has on society.
What are the job possibilities in telecommunications?
Our Telecom grads find jobs in all areas of electronic communications. Career possibilities lie in front of and behind the camera, in radio and television and in all related industries, including advertising, promotions, public relations, telephony, and the Internet.
Are there professional broadcast facilities on campus?
Yes! From our Radio-Television building public television station WTIU and radio station WFIU broadcast daily. Also on campus, there is an entirely student run radio station, WIUX.
When can I get my hands on equipment?
Most Telecom classes in the production track are hands-on workshops. Production coursework involves the use of a professionally equipped TV studio, pro field gear, tape and digital editors, tape and digital sound systems, and advanced multi-media computer software. Check out the Telecom production tools page. The Telecom curriculum only requires two prerequisites for intermediate and advanced production courses: T101, Living in the Information Age, and T206, Introduction to Design and Production.
Also, throughout your college career you are encouraged to volunteer to crew for professional studio and field productions here on campus.

When can I take my first Telecom class?
Immediately upon admission.
What about Telecom student organizations?
We have local chapters of national organizations such as the International Television Association. We also have a department Telecom student organization, TeleSAC. Check out our Telecom Organizations and Associations.
What about internships?
We place students all over the country and even internationally at networks, ad agencies and all kinds of telecommunications companies. The credited internships are highly recommended for juniors and seniors.
How do I become a major?
It depends. University Division Students need to go to UDIV records office to declare the Telecom major. All other students need to schedule an appointment with the advising office. For an appointment, email Jeanne Myers, jealmyer@indiana.edu, or Janis Bolling, jbolling@indiana.edu, or call (812) 855-3828.
Is a minor required?
No.
Do you have a brief description of classes?
You can link here to an overview of Telecom's undergrad curriculum.
What about the Telecom teachers?
You can link here to personal pages of the Telecom teaching faculty.
How do I find out if classes are full?
Link here to the Schedule of Classes: IUB Schedule of Classes
How can I check to see degree requirements?
Link here to the Registrar: Office of the Registrar